Julie Colwell, Ph.D.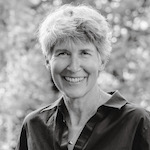 Boulder, CO 80301
Psychologist
In my 35 years of practicing as a psychologist, I've developed a robust methodology that offers a proven path from relationship hell to connection, passion, and aliveness. People who work with me often make profound, rapid shifts, taking the practices they've learned and immediately applying them to their lives.
As the founder and director of the Evolutionary Power Institute, I'm particularly focused on training practitioners into bringing my unique combination of the Hendricks' work, neuropsychology, and my decades of experience with relationships out into the world. The EPI also offers in-person and online personal development classes, and its Embodied Counseling and Coaching program pairs practitioners I've trained with folks wanting to integrate conscious tools into their lives. I do see some couples and individuals privately. You can find many resources on my webpage, where you also link to my three books, The Relationship Ride, The Relationship Skills Workbook, and The Inner Map.