Julie Colwell, Ph.D.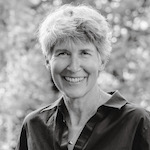 Boulder, CO 80301
Psychologist
The coaching I do, the retreats, classes, and workshops that I teach support people in finding their true power and using their new skills to be more authentic, live in higher levels of integrity, and have more fun in their lives. All of this matches up with my life purpose, which is to support the world in shifting from a "power over/power under" hierarchical paradigm to a "power with" paradigm. In this new world, it is to everyone's advantage for each of us to express our innate gifts and to be our biggest, most amazing selves.
I've written three books (The Relationship Ride, The Relationship Skills Workbook, and The Inner Map) and am the founder and director of the Evolutionary Power Institute, where we teach tools and have a community to practice those in so you can embody the ability get unstuck, create aliveness, and fall in love with yourself, your partner, and the world. You can find out more about me and the work I do at juliacolwell.com .