Jack Massry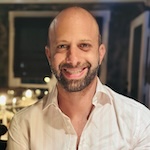 Mexico City, Mexico, and online sessions available to all regions
+16193197710 (USA), +525539339945 (Mexico)
My name is Jack Massry, I'm a Hendricks institute certified coach since 2010 and have attended several of their trainings throughout the years.
My space would be defined by being present with you. Uncovering what wants to emerge the most.
With love and generous attention I believe we can allow all of ourselves to thrive.
I like to work in an environment were both of us are open to learning and to different possibilities that may emerge.
I enjoy the Hendricks work to my core. And my work is aligned with my values of joy, love, integrity and expansion.
Please send me an email if you would like a brief call to introduce ourselves and see if we are a good fit.
---