Camille Evans-Paterson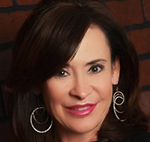 Scottsdale, Arizona/Bend, Oregon
Where are you on a scale from 1 to 10 in your Love Life? If you're not a 10, I can help you get there!
I'm a "Romance/Dating/Relationship Coach" helping Single women attract great relationships, create trust, establish boundaries in dating, and build lasting love.
I also help Married women/Women-in-relationships transform their love lives using my system of creating deep emotional connections with their husband/partner.
Video series 

One-to-One Private Video coaching for single women and married women/women-in-a-relationship 

Free Mobile App (iPhone and Android) to learn how to turn arguments into deep connections

eBook (with worksheets) 
I healed from the pain of divorce, and now I'm teaching women how to create the type of relationships and marriages they never dreamed possible.
I look forward to helping you get beyond the frustration and emptiness of being single or being in a loveless marriage/relationship.