Meghan and Erika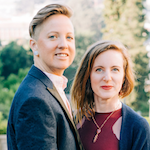 Based in Nevada City, California (virtual coaching available internationally)
LGBTQ+ Coaching for Lovers and Individuals
We are wives to-be and founders of the "Lesbians In Love" podcast. We offer online courses and relationship coaching for lesbian, pansexual, bisexual, transgender and queer womxn, and non-binary beings, to cultivate the relationship skills needed so that you can create lasting, passionate, love. Let's explore together who you were before the world told you who you needed to be and discover what you want to create for your future while learning new embodied coaching practices to support you on that journey. 
Book a free consultation if…
You want to create a relationship that grows from your desires rather than running on adrenaline and default patterns.

 

You'd like to live a life that feels more abundant, pleasurable and playful, whether in relationship or solo.

 

You're struggling with repeating challenges in communication and connection, and you are ready to discover how much joy you can create.

 

You are in the midst of big change or big choices, like coming out, deciding to get married, get divorced, make a move or expand your family.