Maureen "Moe" McBride-Russakoff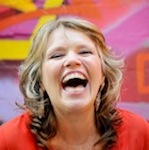 Austin, TX
804-741-5771 (landline)
814-440-1576 (cell)
As a Big Leap Coach Maureen "Moe" Russakoff is once again participating fully in the vision of the world as a place where we do our best work when we play together, staying open to our own creativity.
Moe studied and completed Improv classes at the Second City Training Center in 1994, subsequently teaching a series of workshops alongside the legendary David Shepard.
The Hendricks Institute ethos of playing your way thru body centered experiences facilitating self discovery dovetails perfectly with Moe's background and experience.
A serial entrepreneur, Moe founded New Story Games in January of 2014, offering Corporate and Personal Developement training. Moe's mission as a coach allows for placing loving attention on our cultural conditioning inviting a shift from gender bias to gender balance. Having made her living for many years as a professional singer and humorist, her ease and skill in front of people shines brightest when she writes, speaks and leads in workshop settings.
More information: http://www.newstorygames.com