Joni MacCracken, LCSW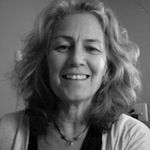 Taos, NM
One Breath Intuitive Coaching: Breathing Your Unique Creativity Into Life
Are you a woman who would like to make empowered choices, increase self love, reliably know how to access your inner joy, and enhance your relationships? When we join together you will learn skills that allow you to sweep away the debris of limiting beliefs. We will apply body intelligence methods that support you in living in the expression of your innate, unique creativity and genius.
I love cross-pollinating my areas of genius: playing with color, love of learning, creating, sharing and presencing with others. By practicing body intelligence methods  I have broken through many of my own limiting beliefs and have created a coloring book for adults  called "Color Your Essence".  There are a ton of benefits from coloring: Coloring calms down the amygdala in the brain thereby reducing stress, symptoms of PTSD, anxiety and more. It also affects the brain the same way meditation does. Coloring increases focus, concentration, problem solving and organizational skills, using both hemispheres of the brain.
I welcome you to contact me for a free laser session!