Dee Cooper, D.Min., LCMFT (Fellow), Adventures for the Wild at Heart, Founder; Lead Presbyter, Denver Presbytery and P4P facilitator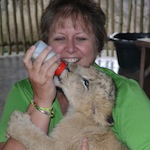 Denver, CO
Master Explorer, Creator of Play, Context Changer, Essence See-er
I am known for both my big energy and my big heart.
I bring a love of play to all I do, and travel alongside my clients as they dive deep and soar high. Drawing upon decades of therapeutic and coaching experiences and lifetimes of broad spiritual wisdom, I explore with others as they encounter the wild love with both animals and themselves. I am an empath, an animal communicator, an irreverent reverend. I have an unflappable loving presence and capacity for holding vast space. I offer workshops, and lead individuals and groups on animal encounters throughout the world.  I work with large organizations desiring contextual changes. I am a Radiance process facilitator.
I believe that by inviting deep connections with animals into our experience, we transform and expand our capacity for compassion.