Dee Cooper, D.Min., LCMFT (Fellow), Adventures for the Wild at Heart, Founder; Lead Presbyter, Denver Presbytery and P4P facilitator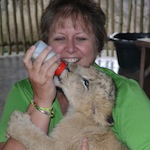 Denver, CO
Master Explorer, Creator of Play, Context Changer, Essence See-er
I am known for both my big energy and my big heart.
I bring a love of play to all I do, and travel alongside my clients as they dive deep and soar high. Drawing upon decades of therapeutic and coaching experiences and lifetimes of broad spiritual wisdom, I explore with others as they encounter the wild love within both animals and themselves. I am an empath, an animal communicator, an irreverent reverend. I have an unflappable loving presence and capacity for holding vast space. I delight exploring with others through all life transitions from birth through death, and all the delightful in betweens.
I offer private coaching sessions, workshops, and lead individuals and groups on animal encounters throughout the world.  I work with large organizations desiring contextual changes. I provide coaching and facilitate national workshops for pastors , congregations, and presbyteries.  I facilitate many workshops around the country with the US Air Force and their care providers. I facilitate the Radiance process.
Adventures for the Wild at Heart is my heart's dream.
I believe that by inviting deep connections with animals into our experience, we transform and expand our capacity for compassion. This work has far reaching consequences for all of us. By continuing to open our own hearts, welcome learning in all forms, we begin to change the world.